Swingtime Serenade shows Violet Waters performing in France.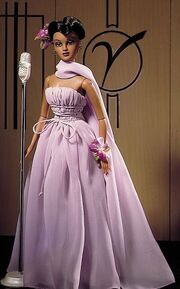 SKU: 93147
Released: 2002
Edition:
Circa: 1941
Designer: Tim Kennedy
Company: Ashton Drake
Price: $125
White version
Edit
(made exclusively for 2002 Toy Fair)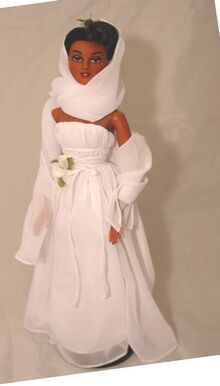 SKU:
Released: 2002
Edition: 200
Circa: 1941
Designer:
Company: Ashton Drake
Price: $225
Story Card
Edit
"Mama, Mama!"  Violet's excited voice crackled across the transatlantic phone lines.
"Baby, baby, slow down!  What's the matter?  Are you all right?  Mercy, you're over there in Paris, so far away, and Papa and I are on constant needles and pins..."
"Oh, I'm fine, Mama.  In fact, I'm the best I've ever been.  I just got an offer to sing with the Le Jazz Hot-Cha Orchestra led by 'le Duc' Hautchat.  Mama--this could be the job that puts me on the map!"
"And you had to go all the way to Europe to get on that map--just doesn't seem right.  But Papa and I are happy for you, baby.  Just sing as pretty for the French folks as you do in the States and they'll just love you.  Now say goodbye--this must be costing you a fortune!"
Violet hung up the phone in the hallway outside the little garret she was sharing with three other Americans in Paris.  She sighed happily.  This was why she'd come to Paris--for the chance to show everyone just what she could do.  And once she'd conquered Europe...
But what to wear?  She ran downstairs to her friend TK's apartment.  TK was a designer par excellence and could make her the perfect violet gown--one that would entrance her audience while she wooed them with her satin tones.
And a week later, when Violet stepped to the mic dressed in satin and backed by the Le Jazz Hot-Cha Orchestra, entrance them she did--and the jazz world found a new star.