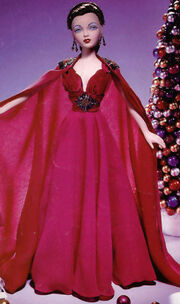 Spellbound
is an outfit worn by
Gene Marshall
at a photoshoot.
SKU: 76235
Released: 2000
Edition: Retailer's exclusive, 5000
Circa: 1940
Designer: Tim Kennedy
Company: Ashton Drake
Price: $49.95
Story Card
Edit
After Gene left Cos Cob, she did become a model.  Some of her most bewitching portraits came from these early days--and her gift for acting shines through the photos found in her modeling portfolio.
In his studio, the photographer was working with Gene for the first time, so he had no idea what to expect.  When Gene stepped out onto the beautifully decorated set, he gasped.  It was as if a mystical being had floated in from another world on a cloud of fuchsia, beckoning others to join her in a dance above the stars.  She took her place beneath the bright lights.
"All right, Miss Marshall," said the photographer patiently, "I want you to imagine yourself in a celestial ballroom--all alone.  Mist floats around you.  You're dancing by yourself to an unseen orchestra--and suddenly you feel as if you're being watched."
Gene stared at the photographer intensely.  In her mind, the studio faded away and the ballroom took its place.
The photographer continued.  "You sense his presence.  You slowly turn...and there he is."
With that the photographer stopped--and almost forgot to click the shutter.  Without the slightest hesitation, Gene's face and pose reflected exactly what the photographer had envisioned.
And it became one of the shortest photoshoots in history.