Special Appearance shows Violet Waters performing at a jazz club.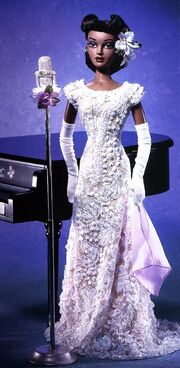 Info
[
]
SKU: 93149
Released: 2001
Edition:
Circa: 1943
Designer: José D'Saenz
Company: Ashton Drake
Prce:
Story Card
[
]
With the sound of applause still ringing in her ears, Violet Waters leaned against her dressing room door.  Her debut at the little Beverly Hills jazz club had been packed, filled with eager jazz aficionados thrilled to hear the vocalist who had taken the music world by storm (and by the curious who wanted to see this plainspoken young woman who was so proud of her heritage and not afraid to say so!).
A knock came at the door, startling Violet for a moment.  Then she turned and called out, "Yes?"  From the other side of the door, she recognized the voice of the club's owner.  As she opened the door, he burst into the dressing room, which was barely bigger than a closet.  "Great job, Vi!" he cried.  "You're the swinginest chick we've had here in ages!  Here's to a long run.  Oh, and hey, I've got a note for you from out front."
The owner handed her the note, gave her a quick hug, and walked out the door.  Violet unfolded the napkin with trembling fingers.  It was from Gene Marshall.
"I KNEW I saw her out front, in that jazzy black number," thought Violet.  She read the note: "...studio people here who would like to meet you...'  Studio?  Maybe this is the break I've been hoping for!!"
Then, adjusting the orchid in her hair, smoothing her sleek white dress, and taking a deep breath, Violet went out to meet Gene, the Monolithic Pictures gang--and her future!