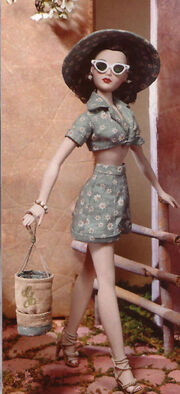 Shorts Story
is an outfit worn by
Gene Marshall
.
SKU: 76234
Released: 2000
Edition: 5000
Circa: 1952
Designer: Vince Nowell
Company: Ashton Drake
Price: $32.95
Story Card
Edit
The Shooting Star shoot was on hiatus for a few days--and Gene relished the thought of playing tourist.
Keeping cool in a comfortable shorts set, her wide-brimmed sunhat and her sunglasses shaded her from the bright Southwestern sun.  She eagerly took in every bit of local color she could find, from roadside craft sellers to a charming folk festival in the town plaza.  Soon her monogrammed tote was filled with treasures and she was totally relaxed, from the top of her hat to the tip of her sandals.
"How wonderful this all is," thought Gene.  "I feel so at ease and at home here.  I only wish I had a good excuse to come back."
Then all at once, she saw it.  "Hacienda for Sale by Owner" read the hand-painted sign.  Now, here was a treasure that couldn't fit in her tote--but a treasure nonetheless.
As luck would have it, the owner was at home--and as Gene toured the house, she knew it was the "getaway" she'd always dreamed of.  Leaving a check as a goodwill deposit (and a kiss on the forehead of the happy householder), she hurried back to her hotel.  There, she called her lawyer, asking him to prepare the papers.
Back on the set, the director asked Gene if she'd done any shopping during her time off.  "Oh, yes," she told him, "I got a chance to pick up a few things..."