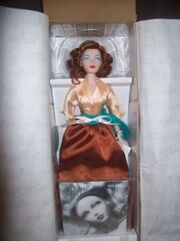 Mood Music
is the Gene convention doll from 1999's 50's Flashback event.
SKU: 76083
Released: 1999
Edition: 700
Circa: 1956
Designer: Lynne Day
Company: Ashton Drake
Story Card
Edit
Hand-written invitations. Hand-delivered by the hostess. If something like that arrived at your doorstep, how could you resist dropping by Gene Marshall's place for an intimate cocktail party? What a perfect opportunity to get away or the hustle and bustle of studio demands -- and just spend a little time enjoying friends and listening to the relaxing sounds of your favorite tunes. It was a group that had fallen together naturally, drawn to each other by their love of simple things: marvelous music, fine food, close company, a lively laugh -- and by the love of life itself. Throwing this party was like a mini-vacation for Gene. there was hardly anything she liked better than putting together a gathering for her cohorts. what a wonderful way to spend the day. She was happily busy until the very last minute, arranging canapés, setting out mixers, filling ice buckets, rearranging furniture... The ambiance was perfect. The lights were slightly dimmed. The sectional had been arranged to make a conversation pit. the patio speakers were turned on in case any of the stars of Hollywood felt the urge to dance beneath the canopy of Hollywood stars. Now upstairs to freshen-up before her guests arrived. She's chosen her ensemble carefully: dressy enough for a party; relaxed enough to be able to play the perfect hostess; casual enough to be a part of the gang. Ready, she walked downstairs -- and the doorbell rang...
Community content is available under
CC-BY-SA
unless otherwise noted.