We're Getting Mutants in the MCU - The Loop
Play Sound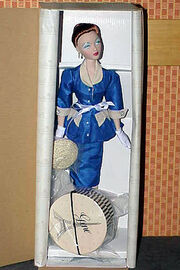 Meet Me in Paris was a Gene doll for the Paris Fashion Doll Convention 2000.
A variation in blue was also produced.
Info
[
]
SKU: 93329
Released: 2000
Edition: convention, 500
Circa: 1949
Designer: Vince Nowell
Company: Ashton Drake
Price: Part of convention package

Blue Version SKU:
Released: 2000
Edition:
Circa: 1949
Designer: Vince Nowell
Company: Ashton Drake

Price:
Story Card
[
]
-"There's something about an ocean voyage, " thought Gene, leaning on the rail of the ocean liner. As she waited for the dinner gong, her thoughts drifted along with the water to her Connecticut youth.

The call to dinner roused her from her reverie. As she turned to go, she bumped into another passenger. With a slight bow, the handsome gentleman offered apologies, then hurried off. Something about him made her smle, but she wasn't sure why...

Seated at the Captain's Table, Gene looked at the placecard at the chair next to hers.  No - it couldn't be! She went to high school with someone by that name. Subtly, she began to scan the room, and then she heard a voice. "Katie? Katie Marshall from Cos Cobb, is that you?"
It was her - and it was him. Her schoolmate from so many years before, now an international lawyer - and the man she'd bumped into on deck. How wonderful to literally run into an old chum. Their chat continued until the wee hours, until he finally said, "You're staying in London; I'm seeing a client in Toulon. Meet me in Paris for lunch."

Laughing, Gene accepted. It would be quite a trip, but for the fun of finishing this conversation, it would be well worth it.

Now, standing in front of that little bistro on the Champs Elysees, she saw him turn the corner - and gasped a little gasp; we're his eyes ALWAYS that blue...?