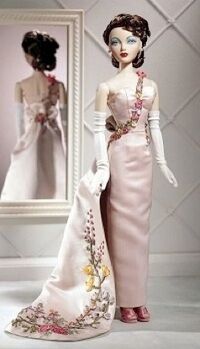 Love in Bloom
shows
Gene Marshall
at a wedding reception.
SKU: 38243
Released: 2001
Edition: retailer's exclusive, 1,000
Circa: 1950
Designer: Regina Ganem
Company: Ashton-Drake
Retail: $195.00
Gene doll with dark brown hair. Side-swept curly bangs with attachable braided bun hairpiece (and instruction sheet). Dark red lips, grey eyeshadow. Bendable knees and elbows, twist waist.
Pink satin sheath dress with floral embroidered asymmetrical shoulder. Attachable pink satin train with matching ribbon embroidery.
Accessories
Edit
White opera length gloves, pink satin clutch, hosiery.
Pink satin ribbon heels.
Pink "pearl" teardrop earrings,
Description
Edit
At her best friend's wedding reception, Gene might not have caught the bouquet-but she caught the eye of all the available men! And who can blame them, as Gene enters in this pink silk sheath, emblazoned with embroidered flowers gracing its train. She needs nothing more than her long white gloves and pretty shoes to complete the picture.
Story Card
Edit
Gene Marshall was thrilled when her best friend from Cos Cob asked her to be her Maid of Honor.  The wedding was picture perfect, but even a private affair became public when Gene was in attendance.  So after the ceremony, she slipped away to make sure it was still the bride's day.
At the reception, she wore a gown provided by Monolithic (always protective of Gene's image on- and off-screen).  But although she was arrayed in studio finery, to the wedding guests she was just their Katie.
The ballroom had become a fairyland--and when Gene stepped onto the floor, every available gentlemen (and a few unavailable ones, including the fathers of both the bride and groom!) lined up to dance.
Then the magic moment came.  The bride ran up the steps, turned, and threw the wedding bouquet over her shoulder.  A mad scramble, squeals--and the winner held her trophy high in the air.  Gene clapped and walked empty-handed back to her mother and father.
"Oh, Katie."  Her mother took Gene's hands in her own and sighed as she watched the lucky girl rush to her beau, giggling shyly as he drew her in his arms.  "Are you going to be always a bridesmaid and never a..."
Gene's silvery laugh tinkled above the hubbub.  "Now, Mother, hush!" she said with a provocative wink.  "'Always' and 'never' are such definite words--and always said by people who never have any hope!"
And with that, she toasted the happy couple with a secret smile.
Community content is available under
CC-BY-SA
unless otherwise noted.