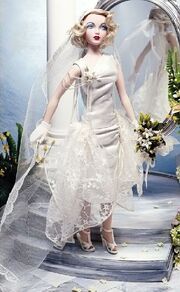 I Do
shows
Gene Marshall
in the film
Ida Best
.
SKU: 96371
Released: 2000
Edition: 5000
Circa: 1920s via 1940s
Designer: Tim Kennedy
Company: Ashton Drake
Price: $84.95
Story Card
Edit
Ida Best WAS the best.  She was the 1920s film star who changed Monolithic Studios from the home of pratfalling policeman and cream pies in the kisser to a place that produced films of prestige and class.  Her presence and talent brought the studio the respect it deserved--and Monolithic studio head Reuben Lilienthal never forgot her.
He saw Ida Best's sparkle and fire in Gene Marshall, and so it was only natural to ask her to star in a film based on Ida Best's exciting life: a recreation of the riotous, red-hot Roaring Twenties.
The most lavish scene in the film was the recreation of Ida Best's wedding to a suave European count.  Costumes, under the watchful eye of Reuben Lilienthal, spared no expense in getting all the details of the wedding dress just right, right down to the ribbon rosettes and the tendrils of satiny ribbon that connected each one to the other.
Finally, the time came to roll the camera.  The director didn't need to cue the cast in their reaction: the sight of Gene in the wedding dress, the long veil wafting wispily around her, was more than enough.
When Gene posed for the cover of a fashion magazine wearing the wedding gown, with its satiny splendor and svelte lines, brides all over the world took notice and began walking down the aisle to a Jazz Age wedding march--and many a daughter begged a happy mother to take her 1920s wedding gown out of storage to wear on that special day.
Community content is available under
CC-BY-SA
unless otherwise noted.