Jurassic World: Dominion Dominates Fandom Wikis - The Loop
Play Sound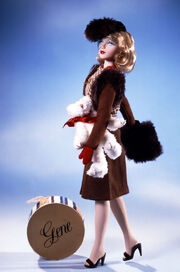 Goodbye New York is worn by Gene Marshall as she departs for California to begin her career.
Info
[
]
SKU: 93501
Released: 1995
Retired: 2002
Circa: 1941
Designer: Doug James
Company: Ashton Drake
Price: When released $29.95, retired at $49.95
Outfit
[
]
Brown tweed jacket with "fur" shoulder epaulets and crepe sleeves, crepe front pleat skirt and red jersey knot blouse.
Accessories
[
]
"Fur" muff, fur tilt hat with veil, red jersey knit gloves, lace-trimmed handkerchief, teddy bear, hat box.
Shoes
[
]
Brown slip ons.
Jewelry
[
]
"Gold" heart brooch chain and teardrop earrings. 
Story Card
[
]
Lucky travelers at Grand Central got a major eyeful last Tuesday if they happened to be heading toward Track 14.  Noted Hollywood producer Eric von Sternberg was off to the City of Dreams...and at his side, a young lady named Gene Marshall, his latest and most luscious discovery, a dynamite blonde in a fur trimmed suit.
Goodbye New York is a two-piece suit in crepe and tweed with "fur" accents, worn with a jersey blouse.  Complete with matching "fur" hat and muff, which has a tiny pocket for her hanky in the back.  Jewelry includes golden teardrop earrings and a heart-shaped scatter pin with chain.  Plus gloves, shoes, seamed hose, hat box, and even Gene's childhood teddy bear, fully jointed, to keep her company!  Fabrics may vary.  Circa 1941.
To the rest of the world, you look the part: a newly-discovered starlet, about to depart for Hollywood.  But only you...and the kindly producer who has become your friend...know how you really feel.  Happy, but wistful about leaving the simple life behind forever.  Excited, but a little nervous about what the future holds.
Nonetheless, Gene starts to play her first "role" at the train station, where family, friends, and the press have come to see her off.  And she'll certainly be going in style...because she's wearing the most beautifully tailored suit even sophisticated New York has seen!
Cut of brown crepe and houndstooth tweed, the jacket has the wide shoulders of classic '40s fashion, lavishly trimmed with faux fur.  The crepe skirt has inverted pleats.  Color flourishes at the suit's neckline, with the bright russet jersey blouse...and matching russet gloves truly help "make" the outfit.  Gene's "fur" hat and muff are an unexpected, luxurious gift from the producer (the muff has a secret pocket for her hanky).  Her hatbox declares her new "star" name: Gene.  But the most touching goodbye gift of all is the teddy bear, Gene's childhood companion, brought to the station by her father to remind Gene forever of her family's love.