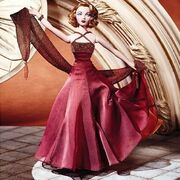 Dance With Me
shows
Gene
in the film
She'd Rather Dance
.
SKU: 76154
Released: 2000
Edition: 5000
Circa: 1948
Designer: Lynne Day
Company: Ashton Drake
Price: $84.95
Story Card
Edit
The film She'd Rather Dance left audiences swinging and swaying.  A beautiful blend of song and dance and drama and smiles, it was a perfect vehicle for Gene to show off her dancing and acting skills.
The story revolves around a young Boston socialite who shocks the upper set (and delights Broadway audiences) by devoting her energies to dancing instead of stodgy afternoon teas.  In a pivotal moment early in the picture, Gene is seen at a stuffy society cotillion.  As the other socialites chatter around her, she becomes more and more bored.
Finally, she can take it no more--she crosses the dance floor and heads for the conductor's podium.  A quick whispered conference with the conductor, a tap of the baton...and the music starts to sizzle with the musical invitation "Dance With Me".
Like a coppery flame, Gene ignites the dance floor, underskirts fanning the fire.  "Dance with me," she croons--and her Bostonian beaux willingly comply.  Surrounded by Boston's Best and Brightest, Gene trips the light fantastic, bringing disgruntled glares from dateless debs--and catching the eye of a famous Broadway producer who just happens to be the guest of Gene's black-sheep-of-the-family uncle.
The number ends in a flourish, with Gene perched atop the shoulders of a tuxedoed tower.  As she steps down onto the dance floor, the producer approaches, a daring question poised on his lips...