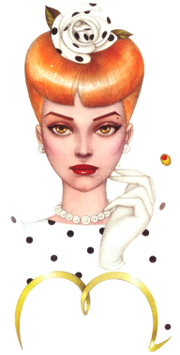 Madra Lord is a fictional movie star of the mid-20th century and a character in the world of the Gene Marshall fashion doll collection.
Madra Lord has held a place in Doll Land as the first actual villainess to be created for a contemporary doll line. Given an intriguing story line and an authentic reason for rivalry with her younger, competing co-star Gene Marshall, Madra is a fully realized, complicated character, with equally complicated motivations. Her fashion style is pure Star! To follow Madra's exploits on screen and off, consult the Madra Lord Filmography.
Madra Lord was introduced to the doll line in 2000, ending production in 2010 when the Gene Marshall product line was retired. Dressed and Basic dolls were produced by both Ashton-Drake and Integrity Toys, as well as Madra-specific film costumes, personal outfits and accessories.
Trending pages
All items (77)
A
B
C
D
F
G
H
J
L
M
N
P
R
S
T
U
W